Tuberculosis Laboratory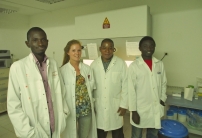 The tuberculosis laboratory was built in recent years in order to provide high quality data on tuberculosis for the region.
We currently support the Gabon National TB Control Programme (Programme National de Lutte Contre la Tuberculose, PNLT) by providing diagnostic services to hospitals and health institutions in Lambaréné. These include:
• The Albert Schweitzer Hospital
• The George Rawiri Regional Hospital
• The

"Centre de Traitement Ambulatoire (CTA)"

, a clinic for voluntary HIV counselling, testing and treatment
• The

"Base d'Epidemiologie et de Lutte contre les Endémies (BELE no. 3)"
In addition, the lab processes samples for CERMEL research projects. See the Tuberculosis Research Group for details.
Diagnostics
• Microscopy: Both by Ziehl Neelsen (

ZN

) and fluorescence (auramine) methods
• Culture: Both by liquid (

by Bactec MGIT 960

) and solid (

Lowenstein-Jensen, LJ

) culture media.
• Drug Sensitivity Testing (

DST

):

By MGIT 960

and Hain Line probe Assay (to some

1st

line drugs).
•

MTBC

speciation: By Hain Line Probe Assay
Genotyping of all samples are done in collaboration with the National Reference Center of Tuberculosis in Borstel, Germany.
Staff
| | | |
| --- | --- | --- |
| | Jabar Pacome Agbo Achimi Abdul | Supervisor of the Laboratory |
| | Micheska Epola Dibamba Ndanga | Biologist |
| | Rebecca Moussounda | Nurse Assistant |
| | Arnault Rogue Mfoumbi Ibinda | Biologist |
| | Chester Mevyann | Biologist |
| | Christopher Ingrid Mebiame Biyogho | Biologist |